Afternoon all and happy belated new year to you all. Let's hope it's a good one for us all.
I'm drinking very little in January on a personal level as trying to lose a bit weight and improve my general fitness. To that end I went on a cracking long walk yesterday up and around the Coquet valley in Northumberland and despite pretty heavy conditions I just about survived and not feeling as sore as I anticipated I would.
Anyhow, after the walk was over I did have a single pint in the local pub for a bit of refreshment and it went down very well I have to say. It's the first time I have tried Northumbrian Gold and have to say I'll happily try some more in future.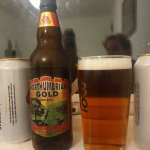 Keeping with the fitness theme how could I *not* post this!!! Have a great weekend folks