Harry Pearson took his mazy dribble through north east football back in 1994 with the incredible Far Corner, surely the finest football fan book ever written. This year has marked a long awaited return to the north east grass roots from Harry with The Farther Corner. And I tell you what it is so well worth that wait.
Hilarious, thoughtful and saying so much on a personal level about Harry himself as well as the north east stamping ground that he clearly loves so dearly. The Farther Corner is studded with anecdotes and character portraits that leap off the page. Proving without a doubt that still after all these years Harry is still the top of his trade..
I simply had to chat to the author about taking this sentimental return with The Farther Corner.
An edited version of this chat was printed in the Fly Me To The Moon Issue 608 v Barnsley but here is the full conversation and hopefully it whets your appetite before buying a fascinating book.
Q: There was a big gap between the two books. I don't think I have been to any event with you where someone hasn't come up and said to you, Far Corner the best football book I have ever read. When are you going to write a follow-up?
HP: It's funny isn't it? Because I was thinking the last time you interviewed me was when we came back from Carlisle with Uncle Harry in the car and you asked me about that then. It must be more than 10 years ago. And I hummed and harred about it.
Q: Far Corner was a seminal book. It meant a lot to so many people.
HP: Publishers ask me about it. Although ironically the Far Corner publisher wasn't interested, that is why it is a different publisher. They said I don't think anyone will want that..
Q: Far Corner was a document in time before football moved on, whether intended or not?
HP: Yes it was, I realised 5 or 6 years after it came out if I went into schools to talk to kids there was stuff they didn't know anything about like queuing up to pay in at the turnstiles and standing up. They had never seen it. All seater stadia came in. The way that we watched football before the Taylor Report or before the Riverside Stadium, the way we watched it was exactly the same as when our grandfather's watched it. When my granddad was growing up as a kid in Essex Street when he went in it was no different to when we went. Same experience, obviously the ground had changed a bit but we would still pay at the turnstiles and stand up.
Then unbeknownst to me it changed absolutely. That was just a coincidence, who would have known.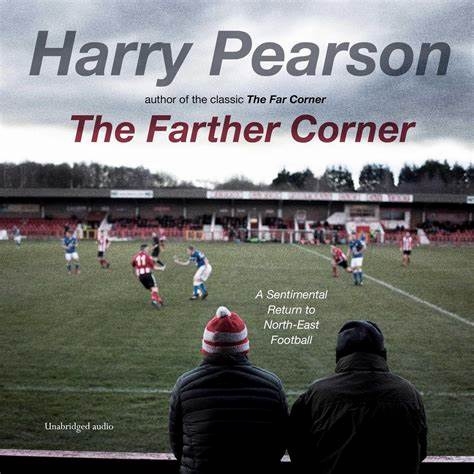 Q: You spent a lot of time in Far Corner going to grass roots clubs and although they might not have gone all seater there were also significant changes at Northern League levels too.
HP: Yes. All levels. Ironically, they are much better supported now, there are many more fans now at Northern League grounds than when I wrote the Far Corner. It has become much more popular.
Q: That is encouraging.
HP: It is but it is also disillusionment with the higher level of football. If you look at South Shields for instance. I remember going to see South Shields in 1996. I remember there were about 115 people there and now they are getting 2500 quite regularly. That is because people are just pssed off with Newcastle, Sunderland and Boro to an extent, though not so much. Heaton Stannington, North Shields support is far more than it was and that reflects that disillusionment with higher level football.
Q: A running theme or not running theme in the Farther Corner is the Rail Strike.
HP: The return to the 70s. I was a bit annoyed about that because I would have gone to different places. There would have been more teams in it. It just went on and on and no one seemed to care. If it had been in the south east something would have been done about it. The rail companies were guaranteed payment as part of their franchise, so as well as not being able to go anywhere we were paying them through our tax.
Q: Double whammy. But I think we did get to follow a few teams closer, particularly Dunston on their cup run and get to know the players and characters around the touchline a bit more closely.
HP: I think that is probably true, yes. And that is partly because when I wrote the Far Corner I had never been to those Northern League grounds at all, now I have been going to them for 25 years so I know loads of people. That is a funny thing. When I go to football I always meet people and I have a really good chat with them and I really enjoy their company and then I go away and I have no idea what their name is or where they live, or whether they are married or whether they have kids. Just vague little bits of information that I pick up. So you just have football people that you meet at football.
And part of its nice. When I was going through a really bad time these people didn't know anything about me and didn't know anything about that so we didn't have to talk about it. If you met your friends they would say how are things? How are you feeling? With these people you could just witter on so it was a bit of a relief sometimes and probably for them too. Who knows? They may have had their own problems. So, it is nice to know people on that level.
Q: You have just hinted there that you were going through a personal trauma of a relationship break up. Was it daunting for you to actually talk about your personal life, perhaps in the first time to such an extent in this book?
HP: Yes, it sounds a bit ridiculous but in a way Northern League football was like a saving thing. I used to go on Saturday. It was like the Gascoigne thing, the only place where he felt safe was on the pitch. I used to look forward to Saturday. Tow Law versus Crook, my excitement to go was disproportionate because while I was there I was away from everything. I was away from my house and all my problems. With people who didn't know anything about it and just treated you on that level. So, I wanted to write something about that because people who don't follow football just think that it is nothing but it is like a community of people as well built around the game and I think important to write about that.
Q: When you are talking about the characters, you are not just making fun of them are you. You are showing people in a community and showing them in the round aren't you.
HP: That's what I wanted. In the first book I was much younger so I was rude and take the pss out of everyone. In the Far Corner I described some of the crowd at Bishop Auckland as like the loveless and the loonies and now I realise I am one of those people now. I am one of those people I described, the white haired men in their anoraks. The people I described so disparagingly, I am one of them now.
Q: It is a different century now to Far Corner but once again with Farther Corner apart from a document to the rail strike you might just have caught northern football and society before COVID and the permanent change that might entail.
HP: Yes you should put something about the fact this could be the only way people can now go to football which is pretty grim.
It maybe is, we just don't know at the moment. It is strange timing again. Not quite as optimistic as last time.
Q: Then again there is hope as you have chronicled through the two books the resilience of the local game and the way the people that run these clubs seem to be able always to bounce back.
HP: I think that is true. I think those little clubs particularly they have weathered everything that is thrown at them and I feel really sorry for them now. At the start of the season I saw one of the blokes that runs Whitley Bay and he was saying, we have got all this in place. A typical geordie in a way, really enthusiastic, positive. And now suddenly the crowds have been cut from 300 to 150 and they can't have the club house open for the game or before the game. And all their resilience is tested again. It is like they have gone through it once and now they have got to go through it all over again. And there is no willingness from the FA or anyone to help them, is there, it seems to me.
They are completely reliant on ticket sales it is not like the Premier League or even the Championship where they have got revenue from tv. They have got nothing. Without the revenue through the club house and the gate they have nothing at all.
Q: Some of those clubs were so well run and were actually thriving.
HP: They were. Think about Stockton. They had grown from nothing and probably drawing on Middlesbrough fans a bit, I would guess. And they would have got promoted at the end of last season and that is all stalled for them.
The Northern League, it doesn't matter if you are well organised and have a bit of money because there are a lot of teams in there like that but it is not easy to get out of, it is not easy to win the Northern League title. Clubs that have money like Celtic Nation, there have been a few teams like that, and they think we've got more money than everyone else, we can just breeze through it but they can't. Because actually the standard of particularly the top eight teams is very high.
It is a bit like getting out of the Championship but there is only one team.
Q: Of course when you were writing the Far Corner a lot of teams stayed put.
HP: Yes, they chose not to but now we are in the obverse position where if they refuse to get out of it they get relegated. That is another strange change. The FA bullying the little clubs because they can't do anything about the big ones, it seems to me. The perfect pyramid. The pure pyramid I think they call it. But that has been stalled by COVID as well.
Q: We know about how the north east was a hot bed and the saying if you shouted down a mine you would get a football team etc. But in the Farther Corner, although that time may have passed you are still travelling around former pit villages in County Durham and they still support teams don't they?
HP: Yes. Although, interestingly the teams that have done best recently have been more Tyneside and Teesside. Probably more from wealthier suburb type like Markse and Morpeth. That again is to do with money from advertising etc than there might be out in Crook and Willington, although Crook have had a bit of a revival. But it is still going on Easington, Esh and all those places. The football is still there.
One of the interesting things is whether the north east produces the same amount of footballers as it did, again it is hard to judge really because obviously there are a lot of foreign players now but there don't seem to be the same numbers.
Q: You mentioned in the book how there were once scouting systems from top flight clubs like Burnley trawling the area?
HP: Oh yes, even now I still find players like Jimmy Husband who played for Everton when they won the title under Howard Kendall. I didn't realise he was from the north east. Up until maybe the 90s, there were just so many from the north east all over the place.
Q: Yes, when we were reading Shoot?
HP: Yes, exactly every team you saw had someone in. I remember going through Peterborough and they had a player called Tommy Robson, you know from his name. He was from county Durham. That actually made people proud of the region. Even if our teams were no good at least we had that.
Q: All the players being from this area and things like the pitch at Ayresome Park.
HP: Yes, groundsman Wilf Atkinson. I was reading an interview with Bobby Murdoch he said something like if you couldn't play on that surface then you couldn't play anywhere. He was praising the turf.
I remember interviewing Alex Stepney years ago for the Guardian and I said I saw you play for the Football League against the Scottish League at Ayresome Park and he went I always loved playing at Ayresome Park because the playing surface was fantastic. You might have thought as a keeper you would prefer the opposite.
Q: Don't say that to Dimi Konstantopoulos he was a victim of the ball hitting a rut or bottle top in the Riverside pitch.
And they certainly played a few times at Ayresome Park did Man United.
HP: Yes, we played quite regularly in the FA and League Cup. I think Bobby Murdoch had played in that fixture too.
Q: We seemed to get those of representative games a lot at that time.
HP: I must have been about 7 or 8 and I think there were about 38 000 there. A huge crowd. But it was basically the England World Cup team versus the Celtic European Cup winners. There were quite a lot of good players.
Q: Presumably you are grounded through COVID now.
HP: I did go to a game a couple of weeks ago with Dan Gray, Jarrow versus Durham City at Perth Green on the Scotch Estate. So, it was a good place to take him being as he lives in Scotland. I went to a Dunston and Newcastle University. I have been to about four games but that was before the local lockdown came. The games are carrying on but it is awkward to get to them.
Q: A bit like how awkward it was when you writing the book.
HP: I feel bad because all the buses say essential journeys only. Like going to see Ryton and Crawcrook Albion versus Sunderland RCA, is that essential. It is only for work and education. Mike Amos said this is work and education. (laughs).
Q: Back to your book and your granddad and he didn't like it did he when there was any hint of success.
HP: No he didn't because that attracted part timers and he hated the part timers. He always got to the ground at the same time, always. So, for the famous Oxford United game he couldn't get in. My dad, who never went to football ever, the classic part timer, he got there an hour before kick off and got in. And my granddad got there fifteen minutes before kick off like he always did and couldn't get in. So, he was really pssed off. So that finished him off and after that he just wouldn't go. He wouldn't buy tickets in advance, that was another thing. Any of those games that were ticketed I went with my dad because he just wouldn't go to them.
Q: It is a fantastic book.
HP: Thanks but I have never been so nervous, I went to Scotland the week that it came out. I switched my phone off so I couldn't be contacted.
Q: You did keep it quiet as well that you were writing it.
HP: But that was because I was so nervous about it. I was hoping it would come out and no one would notice. That was my ambition. Because people have asked me about it so much.. oh no you will be disappointed. I will feel I have let everyone down.
Q: Even though you have written so many excellent and different books in between times this was the follow up. The second album syndrome, perhaps.
HP: Well, exactly. It is like I never did anything else. Which is great, if you are going to be remembered for anything I would take it. Yes, it felt like that, it really did.
But also the thing with the first book, is that how I know you and Fischer and so many people through the Far Corner that are friends now. That I would have never have met otherwise. And that has been a great thing about football and I hope the new book is a celebration of that. That sort of friendship. That community. Because I think that is the really lovely thing about football and it is easy to forget or take it for granted or not notice it.
Q: That is something worth reflecting on now when that community is under threat.
HP: Well, exactly. We were all joking on the When Saturday Comes podcast, no one has thought about the groundhoppers. As a sort of slight groundhopper myself. People have forgotten it is an important social function for a lot of people. Because of the Premier League and the way football is covered at the top level all there is are the sort of people in betting ads. They think the actual football fans as like the people in betting ads. They are not are they? We're not. As if all people are wanting is to be jumping up in the air cheering or sitting with their head in hands weeping. But that is not really why a lot of the time people are going I don't think. Part of it but it is not the real heart of it.
Also now communities are much more fractured. Did your dad work for ICI?
Q: He did.
HP: They were big works and they knew loads and loads of people. My dad and your dad would know thousands of people. You couldn't go anywhere with him without him meeting someone he knew or had worked with. People don't have that anymore because there are not those big industries now.
I remember Edward Bryson, I mention in the book, he worked in Dunston in a big carpet factory there that employed 1500 men and he knew everyone by sight. So with their families he might have known 2000 people in Dunston to say hello to. That is a huge number. Nowadays you would never be with that amount of people except at football. So, the clubs are much more important in that way than they were then. And I think that is why people do get involved in non league football because they feel like part of the community, and know everyone, even if to say hello to and I think that is a really nice thing. And I think it is important thing too for people to feel that.
There is a sense wherever you go, it doesn't matter how rough the place might be but non league the football clubs are always friendly. People say hello and have a chat to you.
Q: You must be meeting people that are the very heart of the community. You wouldn't see them otherwise.
HP: No you wouldn't. I was writing a piece about cricket in County Durham for the Nightwatchman. I was talking to a bloke at Horden cricket club and he was running junior teams at Horden cricket club, he went out to work at six in the morning and when he got back from work he had his tea and then went straight to the cricket club where he was teaching junior cricket. Sometimes in the summer he was out from 6am to 10 o'clock at night and then at the weekend he was playing. I said it is amazing you do all that. And he said if I didn't do it, who would?
Q: These people are lynchpins aren't they?
HP: Well they are and with minimal help from the people that are supposed to safeguard the game. Football is exactly the same.
The Boys clubs don't get anything and they have fought for years to just get a tiny bit of a transfer fee. I think I say in the book if they had earned money from Andy Carroll's transfer it could have kept them going for fifty years. If they got 1% of the agents fee, that could keep a club open for twenty years. That is scandalous. Because the people that put all the work in get nothing and then the agents that put nothing in at all cream it all off. There you are I feel a bit like a revolutionary.
Q: That is to the fore now as we are coming towards the end of the transfer window seeing masses of money sloshing around.
HP: Yes and people focus on Oh they paid ex amount of money for him, if people are mad enough to pay but the agents are creaming it off and taking millions and millions out and giving nothing to anyone. They are not adding any value to the game.

The Farther Corner : A Sentimental Return to North-East Football
Publisher Simon & Schuster Ltd
https://shop.wsc.co.uk/the-farther-corner.html