Hi, my name is Kingsley and I design t-shirts for Tourism Teesside. I was born in Stockton-on-Tees sometime between the invention of the railway and the construction of Wellington Square shopping centre. From the dark distant days of my childhood in Teesside I remember my mum once lost me in Marks and Spencers, numerous trips to Leslie Browns and going to the Cannon cinema to watch a Star Wars double bill. I studied Fine Art at Cleveland College of Art and Design in Hartlepool, University College Salford and Sheffield Hallam University before embarking on a career as front man in art rock bands THE CHAPMAN FAMILY (2006-2013) and KINGSLEY CHAPMAN AND THE MURDER (2014-2017), a venture which allowed me to perform in places as far flung as Texas and Tokyo, as well as feature in publications like NME and Artrocker, and be lucky enough to appear on MTV and BBC national radio stations. I'm currently in a band called BENEFITS. Don't let any of that put you off though, it's nothing to do with my t shirts. However, here's a pic of me doing rock star stuff ages ago which is pretty cool.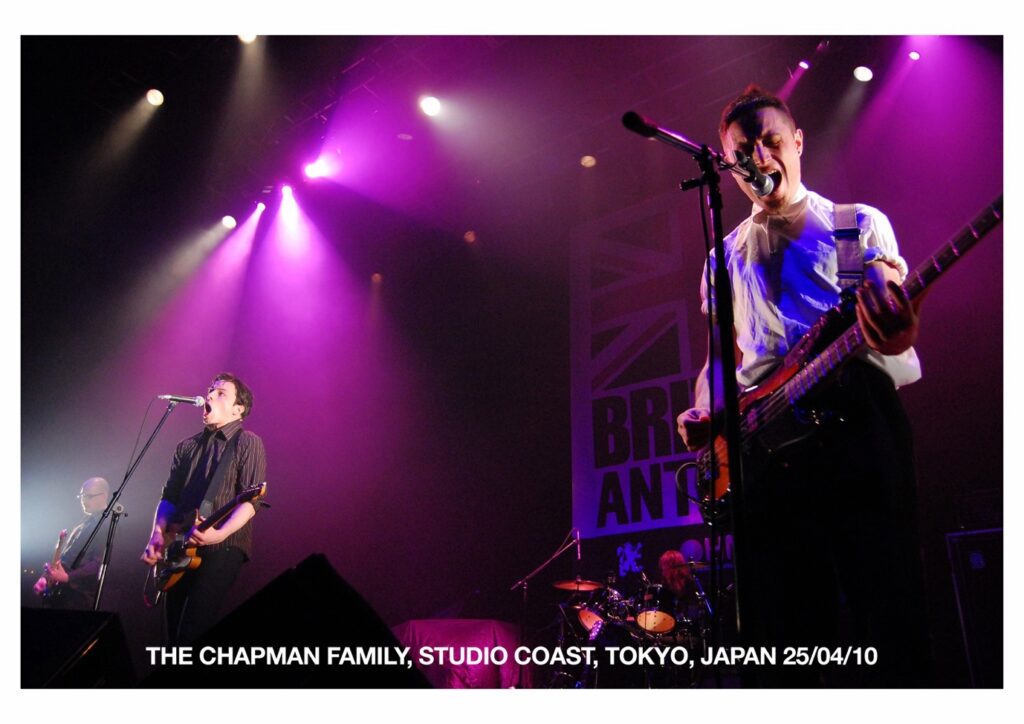 Tourism Teesside came about from an art exhibition I did at the House of Blah Blah in Middlesbrough in 2017 called Trashterpiece. The centrepiece of the show was an altar (made of wooden pallets) where visitors to the show were invited to bring mementos and symbols of Teesside that they'd like to get rid of – a bit like the TV show Room 101. The exhibition was supposed to culminate in a ceremonial burning of all the objects on the altar, a fiery process to cleanse the good people of Teesside of their unwanted memories and hopefully to symbolically allow the region to move on and grow, to stop looking at the past with rose tinted spectacles.

However, as the show went on, the whole concept of the show flipped on its head. I found myself having conversations with visitors about the objects on display and instead of being embarrassed by them we talked honestly instead. A bit of rose-tinted specs, a bit of blood and guts. It became apparent from talking to people across a variety of age ranges that there were huge gaps from what older people knew about the cultural history of Teesside to what younger people did. If I mentioned the Terry Scott Transporter Incident to people of a certain age, they knew immediately what I was on about but anyone under 40 (or folk who didn't have an interest in old Carry On stars) would look at me blankly. They seemed to know a lot about Juninho and could hum the tune to Pig Bag but were blissfully unaware that the Sex Pistols had played near Cannon Park in 1977 or that Middlesbrough once had a national title winning speedway team.

I set about doing some t shirt designs that tried to celebrate Teesside. However, the intention was to not do so in a stony faced historical manner that simply regurgitated the same old things that people had seen a million times before, but to try and create things that celebrated the underappreciated aspects of the region, or to reimagine old ideas in a contemporary (and maybe tongue in cheek) way.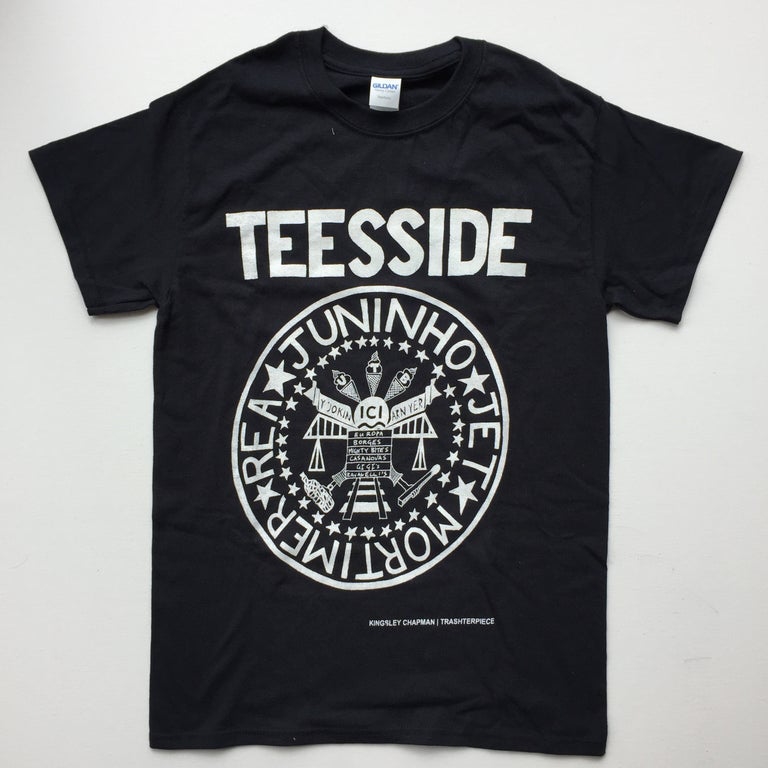 My first ever design was a pastiche of the famous Ramones t-shirt (that's already been pastiched to death by everyone from One Direction to the Wiggles) and it was an attempt to celebrate as much as I could about Teesside onto one tee. There's lemon tops with UTB written on them; an ICI emblem; Phil Stamp's "Yer jokin arn yer" quote written on a scarf; the Bottle of Notes opposite John Walker's match; railway tracks; cooling towers; the span of the Transporter bridge taking the place of eagle wings from the original tee; and the names of six parmo restaurants in the centre piled up like pizza boxes. Surrounding everything are the names of four relatively modern Teessiders: Chris Rea, Jet from Gladiators, Bob Mortimer and finally (honorary Teessider) Juninho. It would have been more appropriate to use the names of the historic icons of Teesside: Bolckow, Vaughan, Pease, Ropner etc but nowhere near as much fun. Plus, the intention back then (as it still is now) was to try and connect with a generation that are a little historically disconnected from the regions past. The idea is to reel people in with the jokes and contemporary famous folk but then try and provide them with a snippet of cool information that they maybe didn't necessarily know.

So, in short, Tourism Teesside is intended to reimagine and celebrate the forgotten histories of Teesside. By redesigning achievements, brands, and iconography I hope to reinvigorate a sense of pride in our region. It's as simple as that.
There seems to be a feeling that nothing ever happens here. Teesside doesn't get "the big names" coming up to perform; we've never won anything apart from the Carling Cup and all that we're really known for is the bridge in Auf Wiedersehen Pet and a flat piece of deep-fried pork or chicken covered in orange cheese. Because people believe, rightly or wrongly, that nothing happens, there's also a new generation that believes it's always been that way. At a push they probably know that the Beatles famously played in Teesside the night JFK got shot but they maybe don't know that Jerry Lee Lewis played in Stockton … as did Stevie Wonder … and Diana Ross … and Smokey Robinson … and Tom Jones … and Bowie in Boro … and Iron Maiden in the Rock Garden … and Take That in The Mall … and Killing Joke in Gaskins … and Ella Fitzgerald in Ayresome Park … and Iggy Pop in Redcar … and the list goes on.

We had cool nightclubs with awesome names like "The Electric Onion," "Superstars" and "Mandys" too – it wasn't always brilliant micropubs, megaclubs and Wetherspoons. There was an amazing looking sports stadium in Middlesbrough with a velodrome; a national championship winning speedway team in 1981; and a Nissan car garage on the trunk road that used Tina Turner's "Simply the Best" to awesome effect in a radio advert. It's these pieces of relatively recent history that I want to research and promote and to get the message across in the simplest possible way that because brilliant things have happened here in the past they can happen again.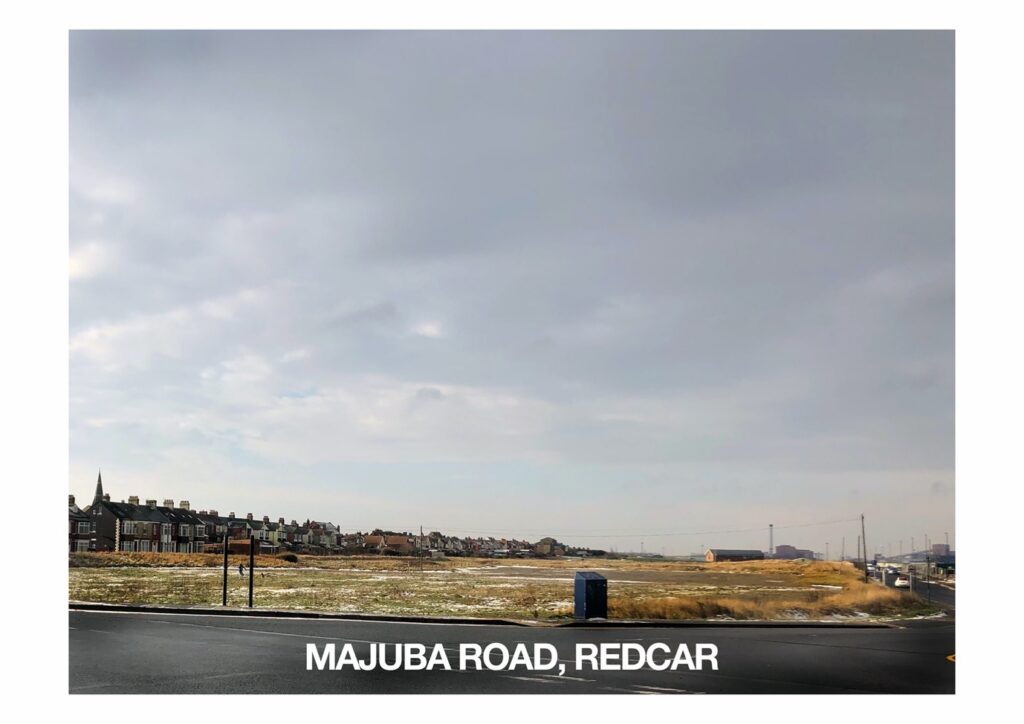 The Redcar Bowl which once graced Ozzy Osbourne on Majuba Road has been levelled; The Mall is an empty gap in Stockton High Street; the old Radio Tees studios on Dovecot Street have been divided into flats; the old speedway is now five a side football pitches; and Ayresome Park is a housing estate. There are no blue plaques in Stockton to tell people that Tony Hancock did a set at Titos on Brunswick Street or that the Arctic Monkeys played in Ku Bar but maybe there should be. Maybe we should shout about this stuff more. The Tourism Teesside tees are my way of keeping these memories alive and an attempt to kick people into action because I fear if we stop talking about them – if we stop celebrating them – then they'll disappear just like the buildings that housed them.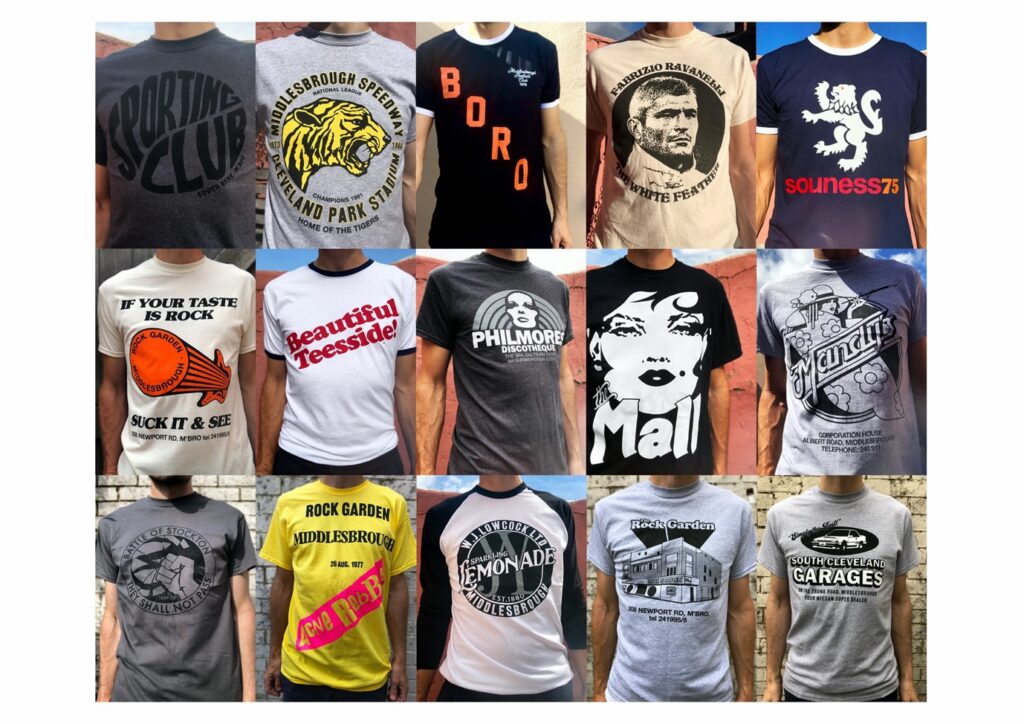 TOURISM TEESSIDE:
https://www.facebook.com/TourismTeesside/
KINGSLEY HALL