The Most Famous Man on Marsh Road: Memoir of growing up in interwar Middlesbrough brought to life through artist and historian collaboration.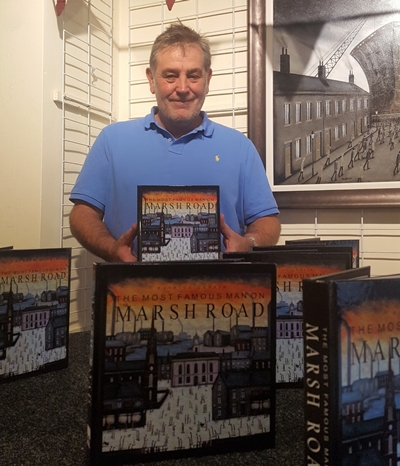 Fascinating insights into life growing up in interwar Middlesbrough's Marsh Road in the town's Cannon Street area have been published following the discovery of the memoir of Patrick Durkin.
The Most Famous Man on Marsh Road tells the story of the son of Irish migrants, Durkin's memoir recollects his early life in Middlesbrough in the aftermath of the First World War. The former shop owner describes schooling in the 1920s, life as a 15-year-old working at Furness Shipbuilding Company, the insanitary conditions of the area and some of the incredible characters and events that shaped the lost community.
The memoir was uncovered in 2015 by Middlesbrough artist Sean Durkin whilst sorting through the effects of his late father John Durkin, who famously stole L.S. Lowry's painting of the Old Town Hall from Middlesbrough Art Gallery in protest at the Gallery's closure on a Sunday, which he considered prohibitive to working-class access to art.
Believing his grandfather's account to be of historical significance, Sean contacted historian and Heritage Unlocked consultant Dr Tosh Warwick who convinced him to publish the memoir. Now, accompanied by an essay by Dr Warwick on Patrick Durkin's Middlesbrough, photographs from Teesside Archives and new artwork by Durkin, the memoir has been published as The Most Famous Man on Marsh Road.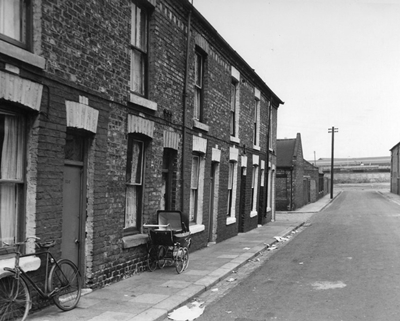 Sean Durkin said "I had been told that my grandad Patrick had set about to write down his memoirs into a 'book' just before he died, but of course, over the years this book had long been lost. Therefore, like so many others as a family, we were left with a hazy, ever-changing and fading family history. I hope the book and the new artwork featured alongside Patrick's story will provide the reader with a deeper understanding of my paintings, and bring a few tears and a few laughs too as it did for me."
Dr Tosh Warwick, Research Associate at Manchester Metropolitan University, added "Patrick Durkin's memoir provides a fascinating perspective on life growing up in early twentieth century Middlesbrough that is absent from traditional histories of the town. Durkin's neighbourhood was likely part of the 'colony of workmen' Lady Bell described in her At the Works social survey just decades earlier and this account provides a sense of what life was like after Bell had departed. The Most Famous Man on Marsh Road's often humorous and sometimes near the knuckle descriptions of extreme insanitary conditions, harsh domestic life, prejudice, substance abuse and violence is unlike any other account of Middlesbrough during this period."
The artist and historian are now exploring the potential of an exhibition based upon the memoir alongside developing new education and heritage resources.

The Most Famous Man on Marsh Road and Durkin originals and limited edition prints are available to purchase at https://www.seandurkin.co.uk/book.php#!/The-Most-Famous-Man-on-Marsh-Road/
and will also be available at The Art House, Middlesbrough after lockdown.