Afternoon all, hope its been a canny week and that the weekend will be even canner! Good weather for it too and if I wasn't looking after the kids tonight whilst Mrs WG heads out with some friends I could quite well have been tempted into a beer garden this evening.
Here is an excellent drink from the Allendale Brewery, a ruby red ale called Wolf. It's very palatable and well recommended if you've not tried it before.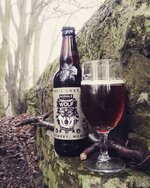 To start us off musically I recently came across this by Lykke Li. Very haunting but love it.