Thought I'd create a thread for their run in, as they're in an incredibly precarious position.
Currently in the relegation zone of League Two, on their third permanent manager of the season, and Crawley have just equalised in one of their games in hand.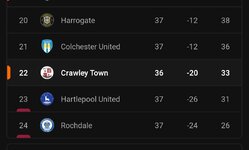 I hope they manage to sneak out of the relegation zone before the end, but they've only won 1 of their last 10 matches.
It'd be a shame for the area, they still took over 1,000 fans to Bradford on Saturday, despite their dire straits.