A STORY OF HOW WE MANAGED TO FINISH ON 88 POINTS
Straight out of the traps July 30th with a rammed August in a 'group of death' like run of teams. We've got to be good to go against the best in the league right from the off, up to speed, team gelled and performing at a higher level than our peers. Could we manage 14 points from our first seven fixtures? 4 wins, two draws and one loss (automatic promotion would allow 10 losses, averaging 5 by the half way point before boxing day) We need first teamers in every position, guys who are experienced 40+ games will not mean as much as rotation will be imperative as the fixtures will come thick and fast. Intensity will be there from the start and Injuries will have a greater impact.
The First SEVEN games have the transfer window still open.. the season might be decided by then!
'The Group of Death' - a brutal 7 game opener
West Brom (h) - WIN - Tough but a statement of intent is required.
QPR (a) - DRAW - lets not get ahead of ourselves slow and steady wins the race.
Sheffield United (h) - WIN - the hardest game all season for us in my opinion, possibly the most important too
Stoke City (a) - DRAW - always dangerous, a strong squad, lets not lose it here. BOYCOTT THE SCUM POLICE - 8 O'Clock on a Chewsda? Riverside Beamback
Reading (a) - WIN - back on track to pick up the points where we need them most. never straight forward.
Swansea City (h) - WIN -
Watford (a) -
LOSS
- prem daddy ready to slap the end of our todger with a hot spoon
The next four games are a little bit more sensible, but as the championship shows each one a banana skin and potential showing up against teams that a promotion wining side would expect to win against. All four are must win, but winning four in a row is a mammoth task in the championship.
'The Banana Skins' - must win games for automatic promotion imo
Sunderland (h) - WIN - Christ almighty, cross your fingers and don't step on the cracks
Blackpool (a) - WIN - a celebration of the very best from boros away support, Blackpool will be the dark horses next season and
Cardiff City (h) - WIN - Gareth Bale's Cardiff City, very much a one man show with a view on the world cup.
Rotherham (h) - WIN - unpredictable, like a feral cat.
The classic mistake of expecting too much too early will be upon us, a successful season follows a curve and to see 22 points at this stage would be nothing short of a miracle.. I've chirped in with 26 points hoping for a strong start.
'Meat and Potatoes' - the REAL championship slog, top teams where it can go either way.
The spooky month will see the contenders emerge, a decent break but right back at the coal face for a jam packed month, no dippers allowed here we're straight on the graft.
Coventry City (a) - DRAW - hopefully we have blunted them somewhat, a mixed bag
Birmingham City (h) - WIN - THIS IS WHAT WE NEED TO DO, DAY IN DAY OUT
Millwall (a) -
LOSS -
pie and mash all over the place, the last team you want to play here.
Blackburn Rovers (h) -
LOSS
- the big shocker in the middle of meat and potatoes, Blackburn showing a different gravy and handing us our asre
Wigan (a) - WIN - time to be the tough guys and take the league by the scruff of the neck! Payero needs to be cooking on gas!
Huddersfield Town (h) - WIN - attacking dominance, a strike partnership heading into cruise control?
Preston North End (a) - WIN - So tough at the end of our meat and Potatoes run to scrap a result against a very capable team away. GLUP!
'An Uphil Battle' - a short run of games that get harder and harder
Hull City (a) - WIN - four wins in a row to take the kings of the north title. Sounds unlikely but we need some magic.
Bristol City (h) - DRAW - More likely to win here and draw at PNE away.. but you gotta add a bit of spice into the mix
Norwich City (a) -
LOSS -
competent unrelenting Ivan Drago level punishment wrong place at the wrong time imo
'The Restart' - tough to come out of this averaging two points per game. got to be strong mentally
The season starts again after a weird month of massage, active rest and an early Christmas
Luton Town (h) - DRAW - tough match slower to get out of the traps, equally matched in some parts of the field.
Burnley (a) -
LOSS
- crap almighty, they're gonna click at some point
THE HALF WAY POINT - 44 points at this point would see us comfortably in contention for automatic promotion
Wigan (h) - WIN
Blackburn (a) -
LOSS
- a strong team with enough to see us off on their day. this day.
Birmingham City (a) - WIN - what are they playing at? time for the jitters on the up and down. new manager?
ANOTHER BREAK - active rest in a hot climate after a false start with points few and far between, cementing relationships and building bonds.. you got this.

'The New Uphill Battle' - slow start we've got bogies all over us.. talk to me goose. Pretty sure I'll be inverted
Millwall (h) - DRAW - straight into the mix a huge wake up call.
Sunderland (a) - WIN - rabbits feet, prayers and lucky underpants a go go
Watford (h) -
LOSS
- timing vs quality and being due a spanking at home.. ooh eck
'Quatermass' - pure science fiction at this point, four hands grasping.. plus one other. No room for pentavirates in this dojo.
Blackpool (h) - WIN - A RIVERSIDE CARNIVAL! FLAGS AND ALL OF THAT JAZZ!!
Cardiff City (a) - DRAW - fairs fair.. we'll split the points fairs fair. Post World cup Gareth Bale settling the score.
Sheffield United (a) -
LOSS
- PURE BARSTEWARDS
QPR (h) - WIN - BACK IN BLACK GIOVING IN ROCK ALL ON THE HOME STAGE
West Brom (a) - DRAW - BLANK OUT BRUCE AT BROM
'The Mirage' - night sweats, ian beale beards and egg stained joggers. stay in your socks and sandles ladies and gentlemen
Reading (h) - WIN - BOOM LIKE THE GUY OFF STARAGE HUMTERS
Swansea City (a) - WIN - AGAINST THE GRAIN BUT BOUND TO HAPPEN SOONER OR LATER, LUCKS IN
Stoke City (h) - DRAW - SENSIBLE SOCCER
Preston North End (h) - WIN - MADE TO WALK THE PLANK AND JUMP ROPE, THIS IS OUR TIME.. JUMP ROPE!
'The Kitchen Sink' - as we mosey on up to the hateful eight.. they best apologise to my horse like I know they are going too
Huddersfield Town (a) - WIN - what a day, great club, great fans, top pies
Burnley (h) -
LOSS
- SHYTE - DONT CHOKE
Bristol City (a) - WIN - HOW ON EARTH CAN A BASKET CASE BRIONG THREE POINTS AWAY LIKE THAT
Norwich City (h) -
LOSS
- GULP CHOKEY CHOKEY PIG IN A POKEY
Hull City (h) - WIN - STANDARD CLASS
Luton Town (a) - DRAW - SCRAPE SOME DIGNITY, COBBLE TOGETHER A PLAN, B-TEAM IRREGULARS
Rotherham United (a) - WIN - CLIMING THE MOUNTAIN WITH THE FINISH IN SIGHT
Coventry City (h) - WIN - FROM THE ITALISN JOB TO THE GREAT ESCAPE. TIGHT AT THE TOP AND SAYING IT STILL
A STRONG START IS NEEDED, THE SECOND HALF OF THE SEASON IS DECEPTIVLY HARD AND ONE HELL OF A STOP START SLOG. 88 POINTS.. two of them draws have to turn to wins for guaranteed automatic promotion. Where will they come from?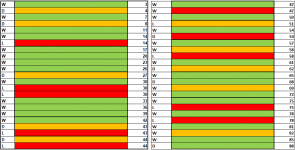 an unrealistic curve? the four banana skin wins certainly look impossible now.. nut nothing compared to four wins after two defeats. Will it be the The Great North Run or The Cannonball Run. We're gonna have to be really special and straight on it! A few canny little rests in the fixtures. Its gonna seem like a LOOOONG season. Tough to get hold of and wild like a stalion.